It all started like any other day… An inventor called to schedule a new product concept assessment, or what AON Invent calls a Step 2, but that's when things got weird. "What was his invention?" you ask. Good question! I'll start by saying you probably have one laying in your yard… Inventors News Flash, not all invention service companies are the same.
For those that are unfamiliar with AON Invent, a Step 2 assessment is part of their three-step vetting process. The first step is a 100% free package that AON Invent designed to help inventors determine if their idea is unique and sellable. After that, they charge an outrageously low $249 for an in-depth consultation that includes a new product concept assessment by a rock-star panel of veteran product developers in the retail capital of the world: Bentonville, Arkansas.
Before an inventor is allowed to share any of the details of their concept, AON Invent puts a Non-Disclosure Agreement (NDA) in place for everyone's protection.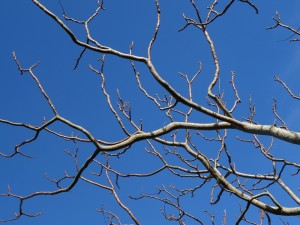 I sat down with Larry Robertson, the CEO of AON Invent, and get the full story from him. Larry told me that the gentleman's name was John, and that he was a member of an invention club in Florida.
"Once we had the NDA, John sent us a list of bullet points with a diagram of what was clearly a twig he had broken off of a tree."
Just so everyone is clear on what happened: this gentleman actually presented a common twig as invention.
"His bullet points stated that the item was environmentally sustainable, and had multiple uses including stirring paint, scratching your back, and chasing the cat out from under the bed, among other things."
Usually, when someone schedules a Step 2 assessment, Larry meets with the inventor and discusses the invention for 20-30 minutes or more to help make a professional assessment. For a guy with a twig, he thought it best to take a different approach:
"Sir, there is no point in discussing this "item". It's a one-star invention only because we don't have a lower rating. Instead I want to take this time that you've paid for to show how you can solve viable problems and come to recognize some of the parameters for what makes an idea commercially viable. From a patent-ability perspective… there isn't anything to protect. After all, sticks have been public domain since the beginning of time."
As Larry tried to explain some common-sense critiques of the "twig invention", John began to roar with laughter.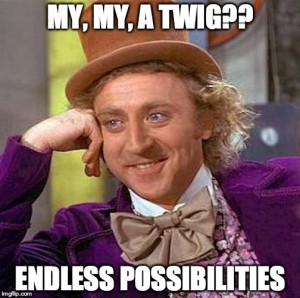 "You don't get it!" John exclaimed.
At this point Larry raised an eyebrow.
"Sir, I may not understand the stick as well as you do, but this item has NO potential."
John laughed again and said, "No, you don't get why I called. Our club has made the same presentation to several other invention companies that have encouraged us to hire them to help us protect and market it.  This had nothing to do with the invention and everything to do with vetting you as a company… and you've passed the test."
Now Larry understood. You see, it's common knowledge that inventors have a tendency to be extremely passionate about their concepts and can easily be coaxed into parting with their life's savings if it will help them develop "their baby". If you're an inventor, then you know how the bug bites you. Shelling out tens of thousands of dollars to move forward with your idea is on the lower end of typical.
To Larry's dismay, John told him that most of the other companies he approached had encouraged him to move forward with his great idea by paying them or a referral partner to file a patent on the twig so they can begin marketing it…  a twig!… Amazing!
Larry continued, "People often ask me, 'How do you make a profit when you charge a maximum of just $3,249?' The reality is we can't – our fee structure was never intended to be profitable. At best, they offset some of the hard cost of the services we provide. The only way we actually make a profit is by successfully getting products to market…THAT'S THE AON DIFFERENCE."
In other words, when an inventor receives a 3-star rating during the Step 2 evaluation and chooses to move on to Step 3, the $3,000 fee only covers the initial cost of due diligence, creating marketing materials, having a registered patent attorney, prepare and file a provision patent application in the inventor's name and presenting it to multiple companies in the applicable industry. Any resulting profit, is dependent upon AON's success in monetizing the INVENTION.
This includes a one-on-one consultation with a member of our Invention Evaluation Panel, followed by a professional assessment of your product's commercial potential by our panel of industry professionals all under the protection of our mutual non-disclosure agreement. Each concept is rated on our "Star Scale" of 1-3 stars. Only 3-star assessments qualify for our third and final step, and you're still under no obligation to move forward.
Step 3 Licensing Services: $3,000
The final step is the most inclusive. During Step Three, AON Invent will: conduct a patent search and prior art search, have a registered patent attorney file a provisional patent application with the U.S. Patent Office, create a CAD or animation of your product, as appropriate and engage in marketing efforts on your behalf. And if these efforts pay off, AON handles the licensing and contract negotiations, as well as all of the ongoing administration thereof.
While we cannot guarantee that we will get your product licensed, we DO guarantee that decision makers of at least three leading consumer product companies in the applicable category will review all 3-star concepts. AON Invent will absorb all additional and ongoing costs of protecting and marketing your invention, and pay you 49% of the gross income received from royalties.
That's all there is! The most you will pay AON Invent is $3,249.
Get started with Step 1 today! It's totally FREE!
Don't forget to like the AON Facebook page to stay updated on the latest from the innovation lab!
Note: Since January 2013 , 93% of the inventors who download our Step 1 discover a critical flaw in their concept and abandon their innovation before spending a single penny of their hard-earned money with AON Invent or anyone else. We consider that a public service in and of itself! Of those submitted for Step 2 evaluations, less than 10% will qualify for Step 3. To put it another way, approximately 1% of Step 1 assessments qualify for Step 3.
*AON offers additional services and the above services a la carte, as well. Contact us for more information.